"Columns" are part of the row and they hold your content elements inside them. Columns can be reordered. Click and drag column around (horizontal axis). That way you can group elements in logical row and then drag them around with your mouse (to re-position).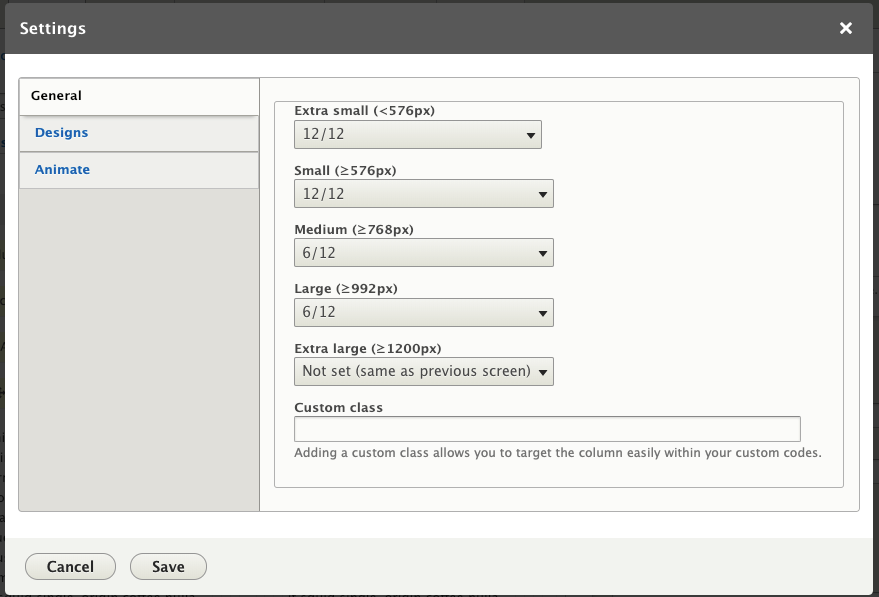 General tab:
We are using Bootstrap grid system work across multiple devices. So five options (Extra small, Small, Medium, Large, Extra large) are controls your grid column in the viewport width.
Class: Adding a custom class allows you to target the column easily within your custom codes.
Designs tab:
Control background, borders and other styling options.
Animate tab:
Add animation class to your column.
How To Use The Column Element:
Step 1: Create a new content, page, block or edit an existing one.
Step 2: Select DrupalExp Builder from list of Text format for Drupal editor.
Step 3: Click + button from Row element, then select Column element.
Step 4: Setting attributes for column from list options above.
Step 5: Once finished, click Save.